Choose the most experienced and creative web designer in Calgary! We offer both custom web design and Website Theme design.
The best quality website design from one of the most reputable web design companies!Businesses in Calgary and across Canada choose Globalgraphics Web Design because we can openly demonstrate our creative ability and experience. From the moment you contact us, you'll find our team extremely helpful, friendly and professional. We'll freely share our expert website design advise with you, and offer solutions that fit in with both your online objectives and budget. That's why our web design company in Calgary has a 4.9 star ranking in Google Local Business Reviews, and a Better Business Bureau A+ accreditation.Globalgraphics truly is the expert web designer; with over 24 years in the industry, and having created thousands of amazing website design solutions. In our extensive Portfolio you can view 100+ design examples that show the calibre of our work and the diverse range of clients that we work with. It's a great place to see how other clients chose to move forward with their online presence, and will provide you with inspiration for your new project!Everyone should have the opportunity to have a great looking website! That's why we can provide you with two very different website design solutions. Choose to have a completely exclusive look and feel for your website with our custom web design service. Alternatively we can create your website using a Website Theme that you particularly like. We offer both of these solutions for all WordPress, WooCommerce and Magento web design and development projects.You can find out more about our website design services below and why you should choose us for your project. Don't forget, that we also have separate sections of our website for web development, ecommerce web design, online search marketing, logo design and website support solutions. If you have any questions at all, or wish to discuss possible options to take your new web design project forward, please get in touch with using the button below!
Why choose Custom Web Design?
Having your website custom designed means that we will design your website from scratch. It's an exciting process where you'll liaise closely with our own web designers in Calgary. They'll guide you through the design process and create graphical concepts of how your new website could look. Using your feedback, the design of your new website will evolve into something unique and amazing!Naturally our web design company will provide you with unlimited revisions throughout the design stages of your project. Once you are completely happy with your new web design we'll move on to build it. You can expect the final results to be stunning. Your satisfaction is guaranteed!
Why choose a Website Theme?
A Website Theme is a web design that has already been created. There are thousands of superb designs to choose from, whether you are looking for a WordPress, WooCommerce or Magento website design! Our web designers will of course help you choose a Website Theme that you like. They can then customize or modify elements of your chosen Website Theme to make it fit in perfectly with your requirements.By choosing a Website Theme you will not compromising on how your new website looks and feels. The great advantage of using a Website Theme is that you save money and your project has a quicker turnaround. That's because you are reducing design work for our team. Now you understand why Website Themes have fast become a Number 1 choice for many businesses!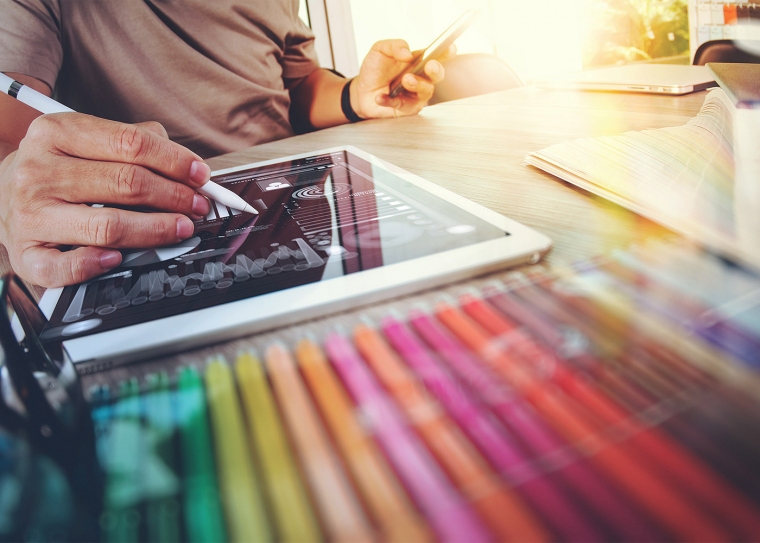 How Web Design should be!
With Calgary's favourite web design company you can expect…
Choice of Web Design
Choose to have your website custom designed, or we'll use a Website Theme you like.
World Class Content Management Systems
We'll integrate your new website with your choice of either WordPress and/or WooCommerce, or Magento
Watch your Web Design Come to Life!
You'll have your own private online area to view your website's progress.
A Performance Ready Website
We'll build your website to be extremely search engine friendly and integrate Google Analytics
Your Website will be Fully Accessible
We'll build your website to be completely responsive for mobile and tablet devices.
Need Images for your Website?
No problem! We can provide you with professional library stock images from Shutterstock.
Domain name, Hosting & SSL
You get free domain name registration, hosting and an SSL certificate for 1 year!
Full Training and Support
We'll train you on how to manage your new website. You'll also get 12 month's of technical support free of charge.
The process and how it works…
Consultation
Our Calgary web design company will provide you with a free consultation where we will listen carefully to understand what your website objectives are. We will then put forward the best web design options available to help you achieve your online objectives, including which content management system would suit you best. If you wish we can also review with you the different digital marketing strategies that are available and suggest the best ways to target your specific market area.At the end of your consultation process we will prepare a web design proposal document and then send it to you. This document will provide you with details on how we will approach your website project, the design and development process, the digital marketing options we discussed with you, as well as project timeline and costs. This aim of this document is to provide you with clarity on how we will undertake your project, as well as meet your own individual expectations and requirements.
Project management
Making sure your website content is completed on time and on budget is essential. We also want your new website project to be an enjoyable experience for you. As soon as we start your project we will allocate you with your own highly qualified website project manager. They will be your main point of contact and guide through the whole project life cycle. Your project manager will oversee all works carried out on your website to ensure that your project remains on track. This also includes the testing of your website, the training we provide you with, and ultimately the successful launch of your website project and any digital marketing strategy you have requested.To further assist make your project run as smoothly as possible we use a project management and collaboration system called Basecamp. We will invite you join us using this system so that you too can monitor the progress of your website design project at every stage. Using Basecamp you will be able to review and provide feedback on design work we have done for you, access a complete communications history between us, and view the work schedule for your project.
Web design process
Did you know that visitors to your website will decide within 5 to 7 seconds whether to stay or leave? That's why making sure your new website visually appeals to the right demographics and is designed for best User Experience (UX) is essential! Our experienced and top Calgary web design team will work with you to make sure your new website has an awesome design that appeals to your target audience.Customers who choose our Custom Web Design service can expect to follow a complete creative design process. Unlimited website design revisions come as standard during the design stages of the project. For customers preferring to use a Website Theme, we will help you choose one that perfectly fits meets your on-line requirements. Please note that we will be limited to what elements of the Theme we can modify. You can find out more about the 2 design options and the pros and cons of each in this article here.
CSS & build stage
The 'CSS and build stage' of your project is when we transform the web design you have chosen into a fully functional website. In this web development process we normally start with the Home Page of your website and then work through the remaining sections and sub pages. Our web developers will also integrate the new website with your chosen Content Management (CMS) platform at the same time. Naturally our web development team will build your new website to be fully mobile responsive.The build stage of your website will be done by our in-house team of highly qualified programmers and web developers. They will work to make sure all of the website features and functionality set out in the project specifications are implemented, and that the new website is built with 'clean'coding. Once your website is fully built our team will test all functionality, as well as making sure it performs seamlessly on all of the different browsers and platform devices.
Search engine optimization (SEO)
Your new website will be built with 'clean' coding to ensure that it is fully accessible and readable for Search Engines. We will also install Google Analytics tracking and performance software onto your website. Knowing how your website is performing will be key to it's success and using Google Analytics you can quickly identify both successes and failures of your website's performance. Any failures can of course be remedied to ensure optimal future performance.Many of our customers also request us to help further promote their websites in Google's organic rankings using Search Engine Optimization (SEO). With our SEO service we take time to fully understand a customer's on-line objectives and who they want to target. We also undertake a full review of their competitors websites before recommending an SEO strategy that meets both their requirements and budget. Using an extensive series of on-site and off-site activities we then make their website even more attractive to Google and other Search Engines. The results we achieve are amazing.
Testing & training
A successful website not only looks great, it performs great too! Whilst your website is being developed by our in house team of Calgary programmers and developers we place it onto a preview area. This preview area is not the final domain name, rather a 'test' domain name instead. This enables us to run your new website through a range of simulations and tests to make sure it performs and functions perfectly. We also run a range a security tests to check the robustness of your website for potential security threats and vulnerabilitiesOnce all our testing and security checks have been completed we will then invite you to review the new website and request a suitable time for you to receive training. In the training session you will be shown how to edit and manage all aspects of your website's content and other functionality. We will also provide you with a training video for you to further reference if you need to. Don't forget that all new websites that we build come with 1 year's free technical support, which means that you always have expert help at hand! We also offer ongoing website Support Solutions to ensure that you are always fully supported and that your website continues to perform perfectly.
Launch & ongoing support
Once you have received training, and are completely happy with your new website, it's time to make it live! Of course your new website will need a secure home, that's why Globalgraphics has complete hosting solutions to offer you. Whether it's a simple shared hosting platform, or a completely dedicated server integrated with an advanced Content Delivery Network (CDN), your new website will be in the safest of hands. Your new website also comes with 12 months technical support free of charge. We also offer a great range of ongoing support solutions to provide continued peace of mind.During the 'go live process' we re-visit the security of your site to make sure it is 100% secure and once again put it through a range of tests. We also check on any social media integration you've requested to make sure they work perfectly. Finally once your website is launched we then move forward with any form of online digital marketing strategy you have requested. This could be in the form of an SEO or Google Adwords campaign, Google Re-marketing or Social media promotion.
Get a free quote
Ready to discuss your web design requirements? Then we'd be delighted to hear from you! Please call us on 416 256 7800 or complete the form below and we'll be in touch with you as soon as possible.